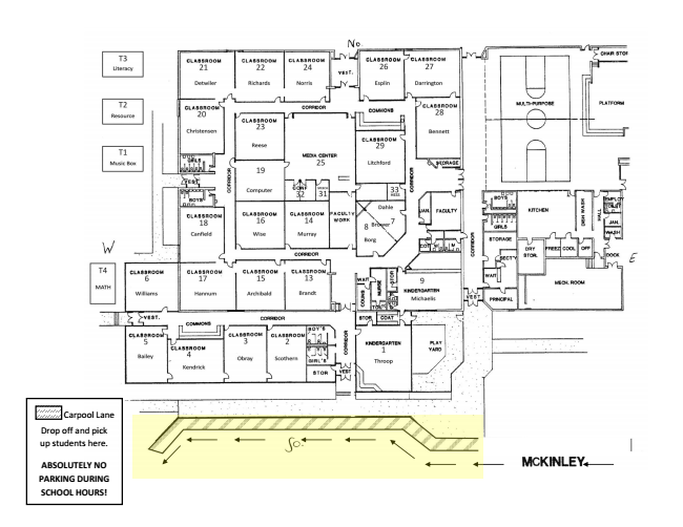 McKinley Staff:
Will be visible in carpool and bus areas to help ensure student safety.
Will be wearing an orange safety vest so that they are immediately recognizable.
Will enforce all arrival procedures in a fair and kind manner.
Carpool Rules:
Here at McKinley we are going to be making a couple of changes to how our carpool is running. Below are the changes being made.
-Walkers and bus students will be excused at 3:20pm on normal days. (2:20 on Fridays) (1:00 for minimum days)
- Carpool students will now be excused from their classrooms.
-This will take place from 3:15-3:25,(2:15-2:25 on Fridays) (12:55-1:05 for minimum days)
-At 3:25 (2:25 on Fridays) (1:05 for minimum days) students who have not been picked up yet, will be released to the front of the school.
-Carpool is 1 lane, please do not park on the south side of 500 South and walk across to pick up your student. This is a safety issue, it congests carpooling, and you may get a ticket. Please wait in the carpool line to help things flow smoother.
We know the line is really long and are doing our best to get students out to their parents as soon as possible. By following the carpool rules this process will flow a lot quicker.

General Rules:
No students will be in a parking lot unless accompanied by an adult.

Will follow the traffic flow pattern and approach the school from the east and exit to the west.

Who carpool their students to school will only allow students to exit vehicles when they are located inside the pick-up/drop-off zone so that students are exiting on the sidewalk side and never need to cross the road.

Can use parking lots for parking and coming into the school except during pick-up or drop off times. Parents will always park outside of the pick-up drop-off zone no matter the reason for being at school, i.e. volunteering, assemblies, bringing something to the school etc.

Will remain in their vehicles so that traffic can continue to flow. If a parent needs to exit a vehicle they will leave both the carpool lane and the pick-up/drop-off area before doing so.​ ​
Walking or riding a bike/scooter

Will stay on sidewalks and out of parking lots and roads

Will cross roads at designated crosswalks and if riding bike/scooter will dismount and walk at crosswalks

Will only ride outside of the pick-up/drop-off zone

Will place bikes/scooters inside bike racks so bikes/scooters are in an upright position

Will be either in the gym having breakfast or out on the playground unless principal determines it is an inside day

Will check in at office if arriving late or if they feel they have something that needs to be taken to a classroom

Will line up outside at their designated line location as soon as the bell rings and will wait until their teacher comes to take them to class