McKinley Families, Due to the extreme weather conditions Tuesday, January 31st will be a 2 hour late start day. School will begin at 10:40. No breakfast will be served. Lunch will be served to students at the regular times. AM kindergarten will be from 10:40-12:40 PM kindergarten will be from 1:00-3:00 No preschool Additional information will be shared as it becomes available. Thank you, Mark Taylor Principal McKinley Elementary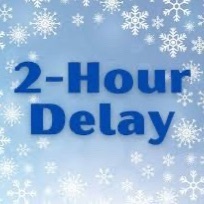 McKinley Elementary Monday, September 26, 2022 Dear Parent or Guardian, We are going to kick off a new attendance reward plan at McKinley Elementary. We want to reward our students for their efforts to maintain good attendance. According to our plan all students who have "Almost Perfect Attendance" will receive a new bicycle at the end of the school year. Almost Perfect attendance means that a student can miss no more than one day of school and still get a bicycle. So, we are planning to give away lots of bikes. We are also going to reward students who have good attendance, but maybe miss a day or two more than one day. Students who attend consistently, but miss 2 to 5 days still have great attendance and will be entered into a drawing for cool prizes. Some of these prizes include a $50 gift certificate, a drone, a $25 gift certificate, and other fun prizes. Finally, all students who have no more than 8 absences for the year will get to attend a "Great Attendance Dance & Ice Cream Party" at the end of the school year. We will start counting attendance toward the contest on Monday,October 3rd. If your student has already missed days of school this year, no sweat. Everyone gets a fresh start on Monday. Best of luck! McKinley Almost Perfect Attendance Committee P.S. The Attendance Committee reserves the right to make decisions regarding the awarding of prizes in special or unusual circumstances. Excessive tardiness, early departures, or other events that cause students to miss a lot of school could impact a student receiving a prize. For questions please contact the school.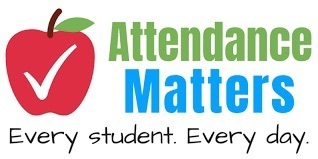 We are celebrating #StartWithHelloWeek to build a culture of inclusivity and empathy! Check your email from Friday for more information :) Hello Week is September 19-23.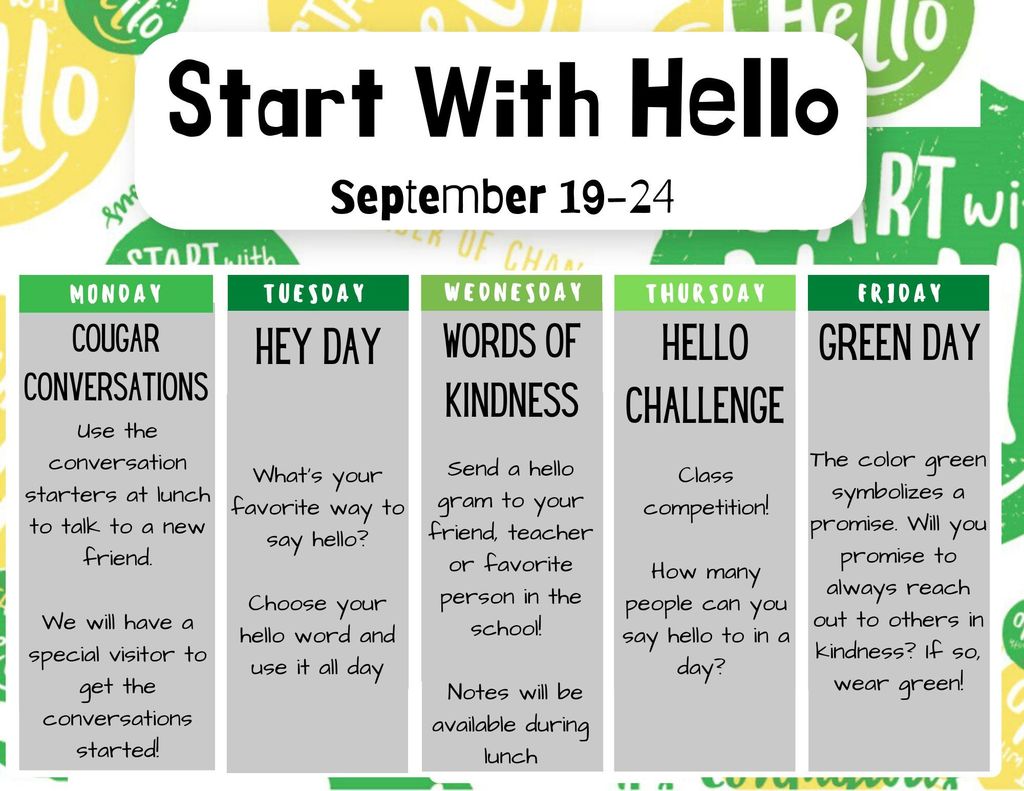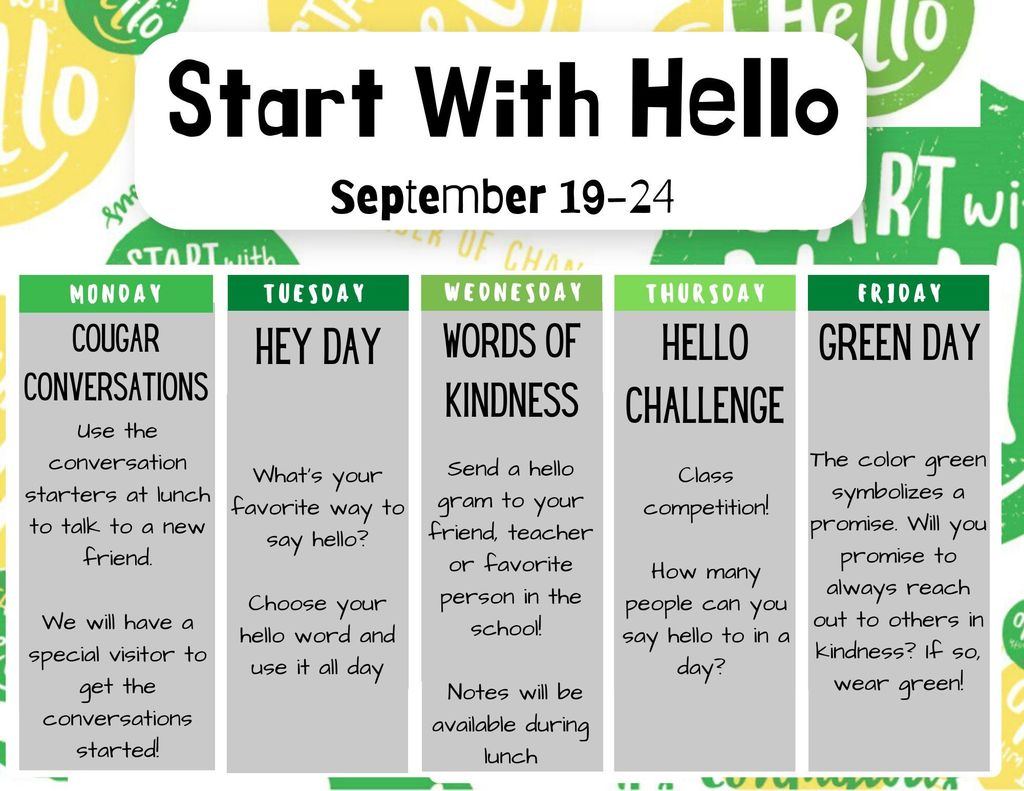 McKinley School Picture Day is coming up on September 8th for the Whole School. We will be doing any Friday preschool students on Friday September 9th. We sent home a flyer from Lifetouch last week for you to order. If you see need to order you can go online at
www.mylifetouch.com
and the picture day code ID is EVT4J2444 . If you have any questions please call the school.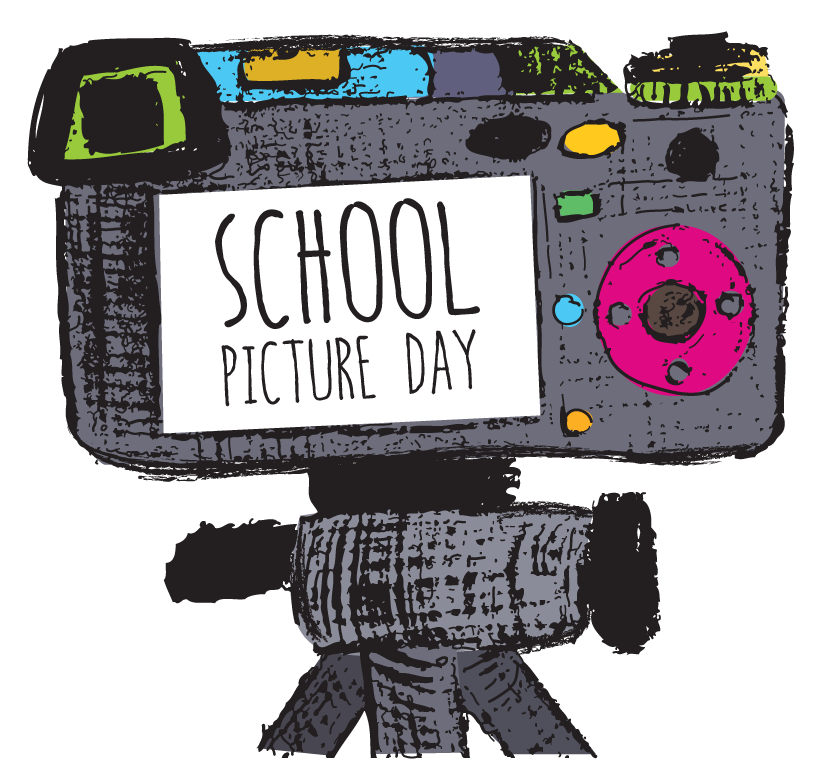 Superintendent Carlson announcement for minimum days on Tuesday, September 6, and Wednesday, September 7th. We are having record breaking temperatures, he feels it best for students and staff. Kindergarten and preschool will now start on Thursday, September 8th. Have a safe and fun holiday weekend.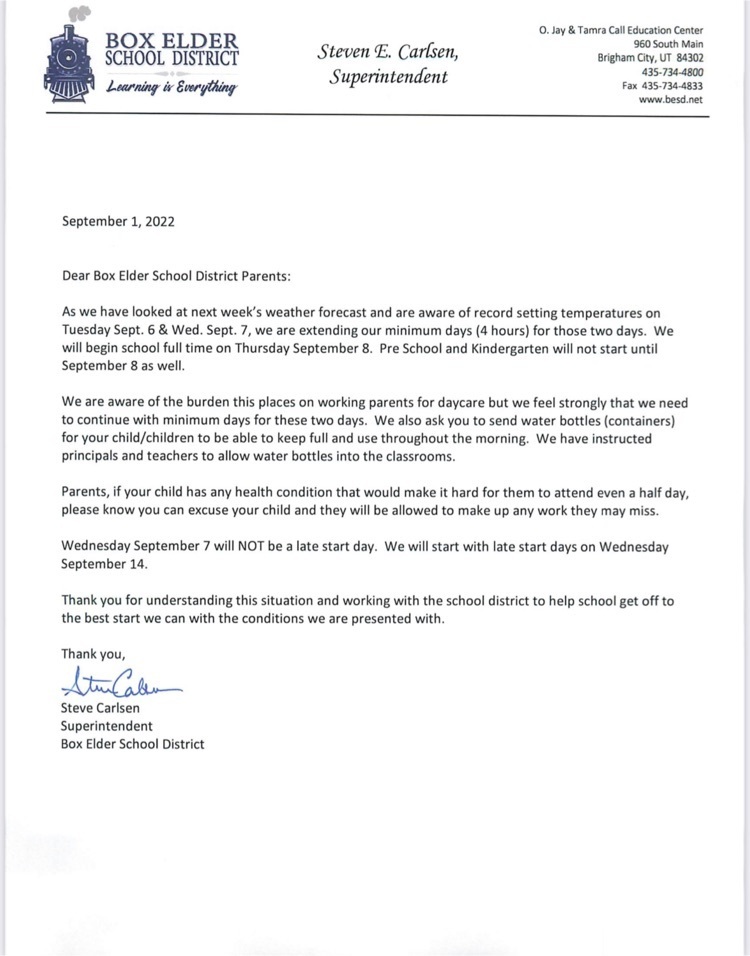 Registration for Fall is now Open!! Click on the link and register online. Please bring into the school a proof of address (EVERYONE needs one every year) If you are in kindergarten you will also need to bring in a birth certificate and an immunization record. Any questions please call the school.
https://aspire.besd.net/Students/Register/Start

Kim Detwiler is the Box Elder County Chamber of Commerce teacher of the year for McKinley Elementary! Kim is a great teacher who goes above and beyond to love her students and meet their learning needs. Way to go Kim!!! #mckinleyunited2021